Curran negotiates bipartisan ethics reform package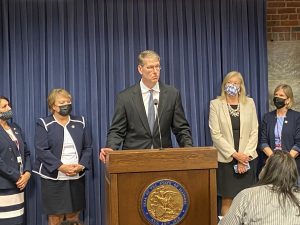 With every new indictment or arrest of an elected official, the people of Illinois lose more faith in their government. This year I served as the chief Senate Republican negotiator of an ethics reform bill that was approved by the Senate and House on May 31.
Through Senate Bill 539, we will hold elected officials to a higher ethical standard and we will empower our Legislative Inspector General (LIG) to independently investigate allegations of political corruption without first having to obtain permission to investigate from a panel of sitting lawmakers. This new level of autonomy is a crucial element of the reforms we passed in Springfield.
In addition to providing greater autonomy to the LIG, SB 539:
Reforms and strengthens the statement of economic interest disclosures by adding new disclosure requirements for legislators and their spouses, including disclosure of debts; and
Prohibits legislators from leaving office and lobbying the General Assembly during the term they were sworn into for six months;
Requires consultants to register and for lobbyists to disclose any contractual relationship with a consultant for the purpose of influencing the legislature; and
Prohibits fundraisers across Illinois on session days or the day before or after a session day.
The original ethics bill that circulated in the Senate included much more watered-down provisions, but I was able to bring ideas to the table and help craft a more robust ethics package. Still, we have a lot more work to do to raise ethical standards in this state. Improvements in a future ethics bill should include providing the LIG with subpoena powers, a provision that allows the Illinois Attorney General the ability to use a statewide grand jury to investigate, indict, and prosecute public corruption crimes, and an even stronger legislator-to-lobbyist revolving door.
Prior to the Senate vote on SB 539 I spoke at a press conference about the importance of passing strong ethics reforms. Click here to hear my remarks at that press conference.
Curran rejects partisan budget
While most Illinoisans were asleep during the overnight hours of May 31-June 1, a 3,088-page budget and 839-page budget implementation (BIMP) bill was filed in Springfield. The bills were voted on within minutes of arriving in the House of Representatives, and an hour later they arrived in the Senate. With almost no time to digest the contents and no committee hearing on either bill, around 2:30 AM, bills that guide spending for the fiscal year that begins July 1, 2021 were approved and sent to the Governor.
I voted against the $42 billion state budget and the BIMP. While details of the plan are still being reviewed, there are several glaring issues within the budget.
First, it includes $666 million in tax hikes on businesses that will slow job growth and hurt economic recovery efforts.  The budget also includes a pay raise for lawmakers.
Despite a $10 billion to $12 billion deficit in the unemployment trust fund, the source of unemployment checks that was so critical to so many during the pandemic, only $100 million was appropriated to the fund, amounting to little more than an interest payment.
The budget also failed to properly fund services for persons with developmental disabilities. Funding for those programs is the subject of an ongoing lawsuit and consent decree. The FY 2022 budget only provides the estimated amount needed for half of a year.
However, there were a few positives in the FY 22 budget. Thanks largely to pushback from legislators including myself, each of the items below, which was initially listed by the Governor to be on the chopping block or on a list to be swept or reduced, but were not cut or reduced in the final budget:
Full funding for schools based on the new evidence-based funding formula
No reduction in the tax credit scholarship fund that allows children attending failing schools to attend a different school
Local Government Distributive Funds (LGDF) remain whole at 100%
Road Fund money was not diverted
Sales tax revenue for RTA and downstate transit was kept whole at 100%
Senator Curran to host Student Loan Payback event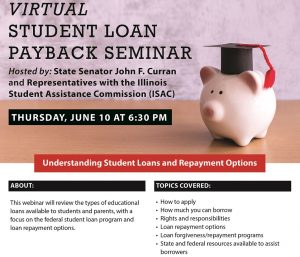 Choosing where to go to college is an exciting decision, and it's important that families know what educational loans are available to help with the cost. On Thursday, June 10, I am partnering with the Illinois Student Assistance Commission (ISAC) for a virtual informational event about obtaining college student loans and options for paying them back. The online event will take place at 6:30 PM, and high school and college students and their families are encouraged to participate.
In addition to receiving information about loans and repayment options, participants will learn:
How to apply for loans,
How much money can be borrowed,
Student and family rights and responsibilities,
Options for loan forgiveness/repayment programs, and
How additional State and Federal resources can assist borrowers.
The event will be held on Webex, and registration is required. For more information, please contact Kelsey at ktorbik@sgop.ilga.gov.
Click here to register for this free informational event.
Most of trailer fee increase rolled back
Ever since small trailer registration fees jumped by 666% in 2019 (from $18 to $118 per year), many legislators have been fighting to see that fee brought back down to reasonable levels. Thankfully, legislation passed in the final days of session to reduce the trailer fee to $36. I would have preferred to have seen the fee reduced back down to $18, but at $36 the fee is much more palatable.
Puppy mill legislation co-sponsored by Curran sent to Governor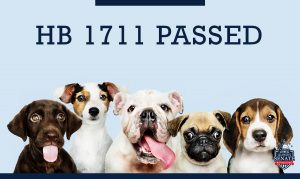 This year I was proud to co-sponsor House Bill 1711, legislation that bans retail sales of dogs and cats that are obtained from inhumane breeders (puppy mills, etc).  Through this amendment to the Animal Welfare Act, pet stores must partner with local animal shelters and animal rescue groups through this legislation. The Governor is expected to sign this legislation in the coming weeks.
There are still additional steps we can take to ensure the ethical treatment of animals, but the provisions found in HB 1711 address some of the biggest problems found with regard to the sale of dogs and cats from unethical breeders in our state.
Senator Curran receives unanimous Senate support for Erin's Law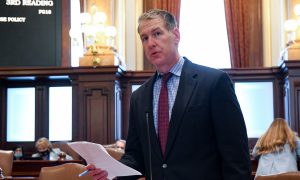 During the spring legislative session I served as the Chief Senate Sponsor of "Erin's Law," legislation that improves children's safety against sexual predators. This important bill has now gained unanimous Senate support, and awaits the signature of the Governor.
I was a member of the Make SAFE Task Force created in the 101st General Assembly, and our charge was to study sexual abuse in schools and make recommendations to improve students' safety. Whereas the instructional elements of Erin's law have been optional for Illinois schools since 2013, one of our task force recommendations was to make those provisions a required element of public school instruction.
Erin's Law is named after sexual abuse survivor and Illinoisan Erin Merryn. As a child, she suffered sexual abuse and assault first from a neighbor and then by a relative. Today, as an adult survivor, she is an advocate, author, and activist. Her mission is to persuade all 50 states to pass a law that requires public schools to provide teacher training in how to prevent, recognize, report and respond to child sexual abuse and grooming behavior, and provide sexual abuse and assault prevention instruction for students.
Through House Bill 3461, schools must adopt a curriculum that addresses sexual abuse by July 1, 2022. Prior to receiving unanimous Illinois Senate support, HB 3461 received a unanimous vote of support in the House of Representatives on April 22. Upon signing the bill, Illinois will become the 36th State to include mandatory teacher training and student instruction relative to child sexual abuse and assault.