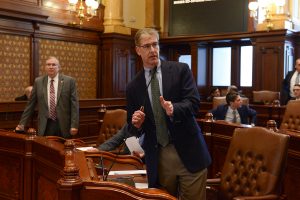 On May 31, the Senate and House approved a package of reforms that address some of Illinois' most glaring ethical problems. State Senator John Curran (R-Downers Grove), a former Cook County Prosecutor, was the lead Senate Republican negotiator of the bill.
"With every new indictment or arrest of an elected official, the people of Illinois lose more faith in their government," said Sen. Curran. "Through give-and-take bipartisan negotiations, today we took a large step forward in delivering real ethics reform. Through SB 539, we will hold elected officials to a higher ethical standard and we will empower our Legislative Inspector General (LIG) to independently investigate allegations of political corruption without first having to obtain permission to investigate from a panel of sitting lawmakers. This new level of autonomy is a crucial element of the reforms we passed today."
SB 539 includes the following provisions:
Allows the Legislative Inspector General to initiate a political corruption investigation without approval from the Legislative Ethics Commission;
Reforms and strengthens the statement of economic interest disclosures by adding new disclosure requirements for legislators and their spouses, including disclosure of debts; and
Prohibits legislators from leaving office and lobbying the General Assembly during the term they were sworn into for six months;
Requires consultants to register and for lobbyists to disclose any contractual relationship with a consultant for the purpose of influencing the legislature;
Prohibits fundraisers across Illinois on session days or the day before or after a session day;
"Through negotiations, Republican ideas were brought to the table, resulting in a more robust ethics package," added Sen. Curran. "While there are still several components we would have liked to have seen in the final bill, the reforms we are sending to the Governor have teeth, and is a positive first step in restoring the public's trust in state government."
Sen. Curran said additional improvements in a future bill should include providing the LIG with subpoena powers, a provision that allows the Illinois Attorney General the ability to use a statewide grand jury to investigate, indict, and prosecute public corruption crimes, and an even stronger legislator-to-lobbyist revolving door.
"We must continue to build upon these bipartisan negotiations, in which we respected each other's priorities, and continue to work to create a more ethical government that is free of corruption and which truly works for the people of Illinois," Sen. Curran said. "While there is no denying there is a lot more we can do on ethics, I am pleased to know our spring session did not end without sending meaningful ethics reforms to the Governor."