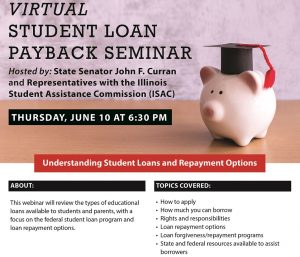 State Senator John Curran is partnering with the Illinois Student Assistance Commission (ISAC) on June 10 for a virtual informational event about obtaining college student loans and options for paying them back. The online event will take place on Thursday, June 10 at 6:30 PM, and high school and college students and their families are encouraged to participate.
"Choosing where to go to college is an exciting decision, and it's important that families know what educational loans are available to help with the cost," said Sen. Curran. "With help from ISAC, we will provide information about the types of loans available to students and parents, and additional information highlighting options for loan repayment."
In addition to receiving information about loans and repayment options, participants will learn:
How to apply for loans,
How much money can be borrowed,
Student and family rights and responsibilities,
Options for loan forgiveness/repayment programs, and
How additional State and Federal resources can assist borrowers.
The event will be held on Webex, and registration is required. For more information, please contact Kelsey at ktorbik@sgop.ilga.gov. To register for the event, go to: https://www.eventbrite.com/e/senator-currans-virtual-student-loan-payback-seminar-tickets-156756628295.