Sen. Curran files comprehensive ethics reform legislation

Comprehensive ethics reform is a critical step for the government of Illinois to earn back the trust of the residents of the State. As we enter the final days of the spring legislative session, time is running out to pass meaningful ethics reform.  If we adjourn at the end of May without sending the Governor approved ethics legislation it will be an ever-repeating failure of the Illinois General Assembly. My proposal will hold lawmakers more accountable, and provide local and state prosecutors with more tools to investigate allegations of political corruption.
As of today, the Senate Ethics Committee, for which I serve as the Minority Spokesperson, has met only once all year. While over a dozen Senate Republican ethics bills were denied hearings, the only bill the committee considered this year is Senate Bill 4, which includes weak reforms and loopholes. SB 4, brought forward by Senate Democrats, fails to deliver necessary reforms and does not go far enough in ensuring those who deviate from their public oath of office are held accountable for their corrupt practices.
On May 17, I joined some of my Senate Republican colleagues as we unveiled real, comprehensive ethics reform legislation. I am the Chief Sponsor of this legislation. Senate Bill 1350 incorporates many of the provisions of SB 4 but expands and strengthens them in many ways. My bill would require greater levels of transparency by elected officials in their official duties, while also providing new, important tools to county state's attorneys and the Illinois Attorney General. Senate Bill 1350 will help root out government corruption by:
Allowing the Attorney General to impanel a statewide grand jury to investigate, indict and prosecute bribery and misconduct by members of the General Assembly;
Authorizing state's attorneys to use wiretaps to investigate crimes of public corruption;
Granting the Legislative Inspector General the ability to investigate members of the General Assembly without first receiving approval from the Legislative Ethics Commission;
Banning legislators from lobbying other branches of state government or units of local government for compensation;
Requiring legislators to wait one year after leaving office, or until the end of the current term (whichever is longer) before they can become a lobbyist;
Prohibiting a legislator from leaving office and continuing to use their campaign fund to support lobbying activities; and
Updating the Statement of Economic Interests to enhance the disclosure of potential conflicts of interest.
The constant stream of elected officials running afoul of the law and stories of self-serving deals by legislators have caused Illinoisans to lose faith in their state government. The only way that Illinois lawmakers can begin to rebuild the public's trust is to pass meaningful ethics reform that will truly address the ongoing corruption that currently plagues the state.
Click here to watch a video of my comments at the press conference where SB 1350 was unveiled.
One step closer to normalcy
Following the CDC's latest guidance, the State of Illinois has updated its Executive Orders and repealed emergency orders regarding face coverings. Thanks to these changes, fully-vaccinated Illinoisans are able to once again gather in most indoor and outdoor settings without wearing a mask.
Under the new guidelines, fully vaccinated people can:
Resume activities without wearing masks or physically distancing, except where required by federal, state, local, tribal, or territorial laws, rules and regulations, including local business and workplace guidance;
Resume domestic travel and refrain from testing before or after travel, or self-quarantine after travel;
Refrain from testing before leaving the United States for international travel (unless required by the destination) and refrain from self-quarantine after arriving back in the United States;
Refrain from testing following a known exposure, if asymptomatic, with some exceptions for specific settings;
Refrain from quarantine following a known exposure if asymptomatic; and
Refrain from routine screening testing, if feasible.
Face-covering requirements are still in effect for vaccinated individuals when they are in a healthcare setting, congregated area, and using public transportation. Additionally, masks are still required to be worn at Illinois schools and daycares.
Furthermore, the repeal of the Illinois Department of Public Health's emergency rules regarding face coverings means Illinois businesses are no longer responsible for their enforcement; however, businesses have the option to set policies requiring their use.
Curran legislation strengthening child sexual abuse statutes advances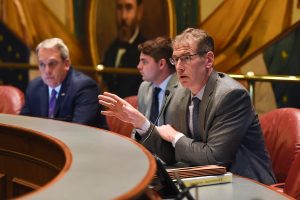 This year I am the leading Senate sponsor on two bills that enhance Illinois laws relative to child sexual abuse. Both of these pieces of bipartisan legislation advanced through Senate Committees last week.
House Bill 3462 provides that every child reported to the Department of Children and Family Services (DCFS) or law enforcement believed to be a victim of sexual assault or sexual abuse has the right to have the child's forensic interview conducted by an interviewer from an accredited children's advocacy center if the service is available in the region.
House Bill 3461 makes the provisions of "Erin's Law" a requirement rather than an option for school districts in Illinois. Erin's Law, named after sexual abuse survivor and Illinoisan Erin Merryn, was signed into law in 2013 as a permissive policy that encourages schools to adopt an age-appropriate and evidence-informed curriculum that addresses sexual abuse.  Age-appropriate curriculum materials for educators must include a definition of prohibited grooming behaviors and boundary violations, and instructions for how school personnel can report these behaviors.
Sen. Curran celebrates Nurses Appreciation Week with Good Samaritan Nurses in Downers Grove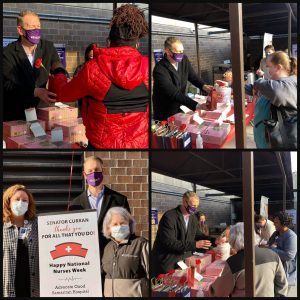 Over the last 14 months, nurses have delivered compassionate and quality care during truly challenging times. As families across the state took heightened precautionary steps to avoid exposure to the COVID-19 virus, nurses walked straight toward this highly contagious virus. They made sacrifices with their families and put the health of others ahead of their own.
Earlier this month, I had an opportunity to personally thank hundreds of nurses from Advocate Good Samaritan Hospital in Downers Grove at the 7:00 AM shift change. I had some wonderful conversations with nurses and nurse administrators as I offered coffee and donuts to arriving and departing staff.
At Advocate Good Samaritan Hospital, nurses continue to be on the front line of the COVID-19 fight. Since the start of 2021, over 45,000 Good Sam team members and community residents have been vaccinated, and since the start of the pandemic, this hospital has treated and discharged more than 1,300 extremely ill COVID-19 patients who required inpatient hospital care.
The following week, I thanked nurses statewide through a speech given on the Senate floor. Click here to hear that speech and view some photos from my visit with nurses from Advocate Good Samaritan Hospital in Downers Grove.
COVID financial help for Illinois restaurants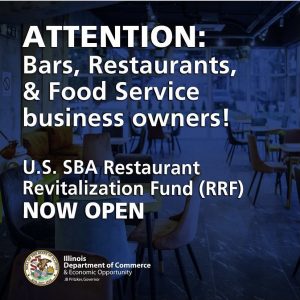 The Illinois Restaurant Association is encouraging restaurants still suffering from the economic fallout of COVID-19 to begin applying for Revitalization Fund grants from the U.S. Small Business Administration. The program launched May 3. According to the Association, the fund will prioritize applications from women, veterans, and socially and economically disadvantaged individuals, during the first 21 days. For more information, including links to apply for the grants, visit the Illinois Restaurant Association website at www.IllinoisRestaurants.org.
Illinois' first female Lieutenant Governor passes away after cancer battle
Corinne J. Wood began her public service career serving as a member of the Illinois House of Representatives from 1997 to 1999.
In 1999, she was elected as Illinois' first female Lieutenant Governor, serving from 1999-2003.
In her role as Lieutenant Governor, she was a champion for women's health. She tripled funding for the Illinois Office of Women's Health, expanded mammogram screenings for low-income women, and launched a "Check for a Cure" program, which raised more than $2 million for cancer research.
She was first diagnosed with breast cancer in the 1990s and ultimately passed away from the disease on May 18.