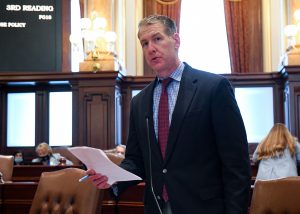 Legislation that improves children's safety against sexual predators gained unanimous Senate support on Friday. The legislation, known as "Erin's Law," was sponsored by State Senator John Curran (R-Downers Grove).
"I was a member of the Make SAFE Task Force created in the 101st General Assembly, and our charge was to study sexual abuse in schools and make recommendations to improve students' safety," said Sen. Curran. "Whereas the instructional elements of Erin's law have been optional for Illinois schools since 2013, one of our task force recommendations was to make those provisions a required element of public school instruction."
Erin's Law is named after sexual abuse survivor and Illinoisan Erin Merryn. As a child, she suffered sexual abuse and assault first from a neighbor and then by a relative. Today, as an adult survivor, she is an advocate, author, and activist. Her mission is to persuade all 50 states to pass a law that requires public schools to provide teacher training in how to prevent, recognize, report and respond to child sexual abuse and grooming behavior, and provide sexual abuse and assault prevention instruction for students.
Through House Bill 3461, schools must adopt a curriculum that addresses sexual abuse by July 1, 2022. Prior to receiving unanimous Illinois Senate support, HB 3461 received a unanimous vote of support in the House of Representatives on April 22. The bill now heads to the Governor for his signature. Upon signing the bill, Illinois will become the 36th State to include mandatory teacher training and student instruction relative to child sexual abuse and assault.