SBA Assistance approved for DuPage County for June tornadoes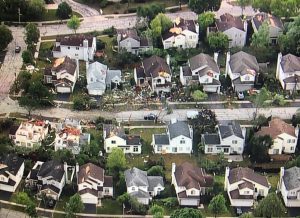 The U.S. Small Business Administration (SBA) has approved a request for assistance to help people and businesses in DuPage County recover from severe storm and tornado damage that occurred in June 2021. In addition to DuPage County, people and businesses in the contiguous Illinois counties of Cook, Kane, Kendall and Will are also eligible to apply for low-interest, long-term loans made available by the SBA declaration.
A damage assessment conducted following the storm identified 36 homes in DuPage County sustained major damages resulting in more than $2.6 million in uninsured losses. The survey also found 127 homes and six businesses sustained minor damages, resulting in more than $3 million dollars in damages.
The SBA Disaster Declaration makes three types of loans available:
Physical Disaster Loans:  Loans to businesses to repair or replace disaster-damaged property owned by the business, including real estate, inventory, supplies, machinery and equipment.  These applications must be received by the SBA no later than September 14, 2021.
Economic Injury Disaster Loans:  Working capital loans to help small businesses, small agricultural cooperatives, and most private nonprofits meet their ordinary and necessary financial obligations that cannot be met as a result of the disaster.  These applications must be submitted to the SBA no later than April 18, 2022.
Home Disaster Loans:  Loans to homeowners or renters to repair or replace disaster-damaged real estate and personal property.  SBA regulations limit home loans to $200,000 for the repair or replacement of real estate and $40,000 to repair or replace personal property.  These loan applications are due September 14, 2021.
A Disaster Loan Outreach Center (DLOC) has been established in DuPage County to help residents navigate the application process. The DLOC is located at the Village of Woodridge, 5 Plaza Drive, Woodridge IL.  The center will be open next week, Monday, July 26 through Thursday, July 29 from 9AM-6PM.
For additional information or to apply online, please visit: https://disasterloan.sba.gov/ela. Applicants can also call the SBA Customer Service line at (800) 659-2955. Completed applications can also be mailed to U.S. Small Business Administration, Processing and Disbursement Center, 14925 Kingsport Road, Fort Worth, TX. 76155.
Curran office seeking fall interns
If you know of a bright high school or local college student who would be interested in learning about the inner workings of a state legislative office, my District Office Director is in the process of looking for a group of fall interns. Based on experience levels, both paid and unpaid internships are available.
My office's internship program offers unique opportunities for civic-minded young people to learn about the operations of a legislative office, communication strategies, and constituent service. Interns will gain hands-on experience in community relations and with monitoring issues and evaluating bills. In addition, my staff will work with students in need of education and community service credits or hours. Time requirements are flexible in terms of hours and length of commitment for students who may have other obligations.
Applicants are encouraged to provide a resume by email to senatorcurran@gmailcom. Letters of recommendation are optional. For more information regarding the internship program, please call my office at (630) 914-5733, or send an email to the address listed above.
Grants and Assistance Programs Available in Will County
The application period for a statewide rental assistance program offered through the Illinois Housing Development Authority recently closed, but Will County is offering its own rental assistance program that is open to people who live in the county and are struggling to pay their rent or mortgage due to COVID-19. Eligible county residents can apply for up to $25,000 in rental assistance through an application that can be found at www.willcountyillinois.org. Funds are available to those earning under 80% of the Area Median Income and who are at least one month behind on their rent or mortgage. Utility assistance is also available to those who qualify. Additional information about rental assistance in Will County can be found at: https://willcountyillinois.org/rental-assistance-toolkit/.
Schools regain some local control
On July 9, 2021, the federal Centers for Disease Control (CDC) released its updated Guidance for COVID-19 Prevention in Kindergarten (K)-12 Schools. Immediately thereafter, the Illinois Department of Public Health (IDPH) announced it was fully adopting the CDC's updated guidance for schools. Final decision-making authority over protocols in the classroom- including for masks- has been given to locally-elected school boards. Here locally in the 41st District, some school boards have opted for optional mask-wearing, while others will be enforcing mask requirements for all unvaccinated students and staff. If you have school-aged children, your school will be providing information regarding their protocol decisions.
While school officials now have final say on COVID-19 protocols within their buildings, the updated guidance states masks "should" be worn indoors by all individuals (ages 2 and older) who are not fully vaccinated, and recommends that if school administrators remove any prevention strategies based on local conditions that they should do so "one at a time" to monitor the effect on COVID-19 cases.
Despite the local control, masks will still be required for all passengers on school buses in accordance with CDC guidelines, regardless of the school's mask policies.
Farmers and agribusinesses now eligible for emergency drought relief
Farmers and agricultural businesses are now eligible for emergency relief due to the ongoing drought in northern Illinois. Earlier this month, Secretary of Agriculture Tom Vilsack designated DuPage, Will, and Cook Counties as disaster areas, which allows farmers and agribusiness owners hurt by the drought to pursue emergency loans.
The US Small Business Administration subsequently made Economic Injury Disaster Loans available to small businesses such as agricultural cooperatives, aquaculture, farm markets, nurseries and others. Small businesses can learn more and apply through the SBA's online portal, at DisasterLoanAssistance.sba.gov/ela/s, or by calling 800-877-8339. Farmers can learn more about the drought loans and other recovery tools available to them at www.farmers.gov.
The eligibility area for the farm and SBA loans also includes Boone, DeKalb, Kane, Kendall, Lake, LaSalle, Lee, Ogle, and Winnebago counties.
Illinois to receive nearly $800 million after opioid settlement
Johnson & Johnson and three opioid distributors have agreed to pay billions to settle thousands of government lawsuits accusing them of helping to create the opioid public-health crisis. The deal will have McKesson Corp., Cardinal Health Inc. and AmerisourceBergen Corp. pay approximately $21 billion to settle claims that they ignored unusually large opioid shipments. Johnson & Johnson will pay $5 billion to resolve allegations it illegally marketed opioids.
The Illinois Attorney General announced that the state will be signing on to the settlement and, if finalized by all local governments, would receive approximately $790 million. The majority of the settlement money would be spent on opioid treatment and prevention.
Illinois unemployment fraud exceeds $15 million
For months, the Illinois Department of Employment Security (IDES) has declined to disclose how much it has lost to fraudulent claims. Recently, WGN 9 news discovered that IDES has reported to the United States Department of Labor that it has lost more than $14.8 million to fraudulent claims since the beginning of the COVID-19 pandemic.
After the number was made public, an IDES spokeswoman confirmed that the $14.8 million sum is reflective of fraud committed by people who were allegedly working while receiving benefits, and doesn't include those associated with identity theft-related unemployment fraud. This would likely mean that the total amount of money that IDES has lost to fraudulent claims is much higher than the nearly $15 million figure.
Rampant fraud is just one more reason why IDES should reopen its offices to the public. IDES has been closed for almost 500 days and continues to be criticized for fraud issues, the slow response time, and the backlog of unaddressed claims.