Kelsey's Law receives unanimous Senate support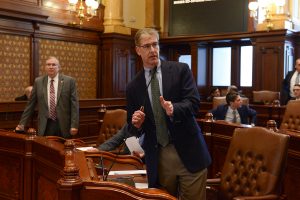 Important legislation that allows law enforcement to pinpoint cell phone location in cases of kidnapping and other emergencies has received unanimous support in the Illinois Senate. Senate Bill 2530, known as "Kelsey's Law," has been enacted in 27 other states, and responds to the kidnapping and murder of Kelsey Smith in 2007.
The family of Kelsey Smith asked me to carry this bill in the State of Illinois so our state can join other states in recognizing that during an emergency, pinpointing the location of a victim's cell phone can save a life. On the day of her kidnapping, Kelsey had a cell phone on her, but law enforcement could not access the cell phone location from the telecommunications service provider until more than three days had passed. This bill allows law enforcement to access that information much sooner.
Specifically, through SB 2530, in cases when a person has been determined by law enforcement to be at risk of death or serious physical harm, upon request by a law enforcement agency, a wireless service provider must provide call location information concerning the telecommunications device of a user to the requesting agency.
This legislation will save lives. I appreciate the full support it received in the Senate, and I look forward to its passage in the Illinois House in the coming weeks. If approved in the House and signed into law, Illinois will join the following states that have adopted Kelsey's Law: Kansas, new Jersey, Nebraska, Minnesota, New Hampshire, North Dakota, Tennessee, Hawaii, Missouri, Utah, West Virginia, Colorado, Nevada, Rhode Island, Oregon, Pennsylvania, Arkansas, Iowa, Washington, Louisiana, Delaware, Indiana, Virginia, Alabama, Kentucky, South Dakota, and Wyoming.
Curran legislation that strengthens child pornography penalties sails through IL Senate
I recently passed legislation that seeks to strengthen child pornography laws by making possession of child pornography when the child is a household or family member of the defendant a non-probational offense. Currently, all child pornography offenses other than mere possession are already non-probationable regardless of whether the child is a family or household member of the defendant or not.
Senate Bill 1892 was brought to me by DuPage County State's Attorney Robert Berlin, and is based on a case in which a defendant exploited his teenage niece. While current law provides that all child pornography offenses are felonies, simple possession of pornography without any aggravating statutory factors is an offense that allows for a sentence of probation. SB 1892 received unanimous support in the Senate on April 23, and is now pending in the Illinois House.
IG Report Points to Massive Incompetence at Dept. of Veteran's Affairs & LaSalle Veterans' Home
The Illinois Inspector General's report on massive failings within the state's Department of Veterans Affairs with regard to the deadly COVID-19 outbreak at the LaSalle Veterans' Home was released Friday morning. The detailed report reveals utter incompetence at nearly every level of the Department of Veterans Affairs. Thirty-six veterans died as a result of widespread failures to first prevent, and then control, the spread of COVID-19 at the facility. The contents of this report are infuriating. We have a responsibility to look after our Veterans, and this report outlines failure after failure.
In the independent investigation, the Inspector General found incompetence and mismanagement all the way from a largely absent and uninvolved Director of Veteran's Affairs, to members of her staff, and down to facility leadership and employee level. The report states that while serving as director (and collecting that salary), then VA Director Linda Chapa LaVia "abdicated" most of her responsibilities to a Chief of Staff with no medical training or understanding, and who stood on the sidelines and allowed each of the state's Veterans' Homes to essentially manage itself. The report also points to widespread failures to follow strict COVID-19 regulations, the issuance of confusing and contradictory health guidelines, and a lengthy delay in seeking and accepting assistance from the IL Department of Public Health once the outbreak occurred and grew in scope. It took more than 10 days for IDPH to do a LaSalle site visit once the outbreak was identified. During those days, infections spread throughout the facility, ultimately leading to 36 deaths.
Sen. Curran hosts successful online public safety forum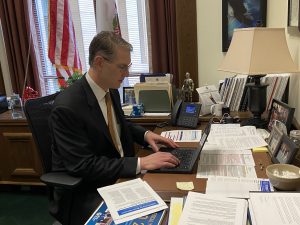 About 50 people joined DuPage County State's Attorney Robert Berlin, Lemont Police Chief Marc Maton and me recently for a virtual public safety forum that was held on Zoom. The event was also live-streamed to Facebook, where additional people tuned in.
State's Attorney Berlin shared some interesting crime statistics that showed areas where crime is decreasing and areas where problems persist or are increasing. His presentation was followed by additional information provided by Chief Maton, who also offered crime prevention and safety tips. Throughout the event, participants asked some really good questions.
Included in Berlin's presentation were statistics showing a steady decrease in DUI cases and misdemeanors since 2015, but an alarming 250% increase in carjackings over the last two years, and an 84% increase in armed robberies over the last year. Click here to view the presentation slides.
Those who missed the Wednesday night event can view it on my Facebook page: https://www.facebook.com/senatorjohncurran
Continued population loss means Illinois will lose seat in Congress
Due to population declines over the last ten years, Illinois will lose one of its 18 United States House of Representative seats for the next decade. Illinois' population, as determined by the 2020 decennial census, dropped in the past decade from 12,830,632, to 12,812,508. That's a loss of 18,124 between the 2010 and 2020 census.
It's no secret that Illinois is a tax-unfriendly state. According to a 2016 survey by the Paul Simon Public Policy Institute at Southern Illinois University, "Taxes are the single biggest reason people want to leave, the weather is next, followed by government and jobs. Specifically, 27 percent cite taxes as the motive for departing, 16 percent say weather, 15 percent cite government and 13 percent name jobs and education."
Senate passes state and local tax deduction bill
Small businesses in Illinois, which suffer from some of the highest taxes in the nation, stand to benefit from legislation I am co-sponsoring (Senate Bill 2531) to alter tax deductions. The bill utilizes an IRS-approved method to allow pass-through entities to bypass the $10,000 cap on the State and Local Tax, or SALT, deduction.
This legislation has the potential to help up to 400,000 Illinois business owners save thousands of dollars annually on their federal tax filings. This bill does not cost the State of Illinois a penny as the tax savings are at the federal level. Currently, 14 other states have passed or are in the process of passing similar legislation. SB 2531 passed the Senate unanimously on April 21 and now heads to the House of Representatives for consideration.