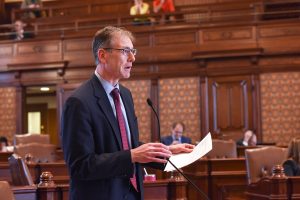 Senator John Curran (R-Downers Grove) has passed legislation that seeks to strengthen child pornography laws by making possession of child pornography when the child is a household or family member of the defendant a non-probational offense. Currently, all child pornography offenses other than mere possession are already non-probationable regardless of whether the child is a family or household member of the defendant or not.
"Senate Bill 1892 was brought to me by DuPage County State's Attorney Robert Berlin, and is based on a case in which a defendant exploited his teenage niece," said Sen. Curran. "While current law provides that all child pornography offenses are felonies, simple possession of pornography without any aggravating statutory factors is an offense that allows for a sentence of probation."
SB 1892 received unanimous support in the Senate on April 23, and is now pending in the Illinois House.