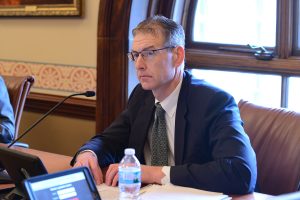 On Thursday, December 23, some holiday shoppers were injured during an exchange of gun fire at Oakbrook Center Mall. In response to the shooting, State Senator John Curran (R-Downers Grove) has issued the following statement:
"News that holiday shoppers were injured during an exchange of gunfire at Oakbrook Center Mall Thursday evening is extremely troubling. While the injuries to bystanders were not life-threatening, this incident is yet another example of the violent crime that is becoming all too common in Illinois' cities, villages, and towns. People are feeling less and less safe in their communities.
"We must take bold and comprehensive steps to address this surge in violent crime. Criminals must know that if they commit a crime in Illinois, they will be held accountable, and the consequences will be severe. We cannot soft-pedal reforms. We must act now by implementing stronger penalties for criminals and those who would assist them. The legislature convenes on January 4, and public safety must be priority #1.
"I appreciate the prompt and thorough response by Oak Brook Police Chief James Kruger, Oak Brook Fire Chief James Arie, Oakbrook Center Mall security officers, and all other frontline responders who arrived quickly on the scene, helped holiday shoppers shelter in place, and then ultimately ensured their safe exit from the mall. Their efforts undoubtedly prevented a much-worse tragedy from unfolding, and led to the capture of persons of interest."