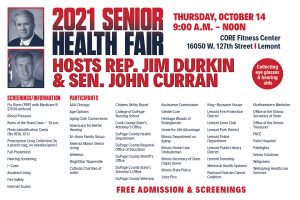 Senator John Curran (R-Downers Grove) and Illinois House Republican Leader Jim Durkin (R-Western Springs) will be hosting their annual Senior Health Fair from 9am to noon on Thursday, October 14, 2021 at:
CORE Fitness Center
16050 W. 127th Street
Lemont, Illinois
"This is a great event for seniors to learn what state and local services are available to them, as well as taking advantage of free screenings in one location," said Rep. Durkin. "With health and safety measures in place, I encourage all seniors and their families to stop by this free event to learn more about the free services and information available to them."
This free event gives seniors the opportunity to access free healthcare screenings such as blood pressure, hearing, fall prevention, and flu shots, in addition to providing various services like photo identification cards, prescription drug collection (pills should be in a plastic bag; no liquids/bottles) and more. Seniors can also receive tips on how they can save money on energy bills. Eye glasses and hearing aids will be collected on site. The State Treasurer's I-CASH division will be on site to help connect seniors with unclaimed property, and as an added feature this year, a Rules of the Road class geared toward seniors will take place at 10:00 a.m.
"This event is always well-attended, and once again we will have several not-for-profit organizations, businesses and medical professionals on hand who focus on improving the lives of senior citizens," said Curran. "With COVID-19 precautions in place for everyone's protection, I'm looking forward to a great turnout for this year's event."
Participants include AAA Chicago, Age Options, Aging Care Connections, Americans for Better Hearing, AI-Anon Family Group, Alvernia Manor Senior Living, Athletico, BrightStar Naperville, Catholic Charities of Joliet, Citizens Utility Board, College of DuPage Nursing School, Commonwealth Edison, Cook County State's Attorney's Office, DuPage County Health Department, DuPage County Regional office of Education, DuPage County Sheriff's Office, DuPage County State's Attorney's Office, DuPage County Veterans Assistance Commission, Gentle Cure, Heritage Woods of Bolingbrook, Home for Life Advantage, Illinois Dental Hygienists' Association, Illinois Department of Aging, Illinois Home Care Ombudsman, Illinois Secretary of State Organ Donor, Illinois State Police, Juice Plus, King-Buwaert House, Lemont Fire Protection District, Lemont Lions Club, Lemon Park District, Lemont Police Department, Lemont Public Library District, Lemont Township, Memorial Health Systems, National Ovarian Cancer Coalition, Northwestern Medicine, Office of the Illinois Secretary of State, Office of the Illinois Treasurer, PACE, Palos Hospital, Pathlights, Premier Suburban Medical Group, Senior Solutions, Synergy Homecare, Walgreens and Wellspring Healthcare Services.
Masks are required to attend the event. All vendor tables will be six feet apart, and there will be a separate entrance and exit. For more information, contact Senator Curran's office at (630) 914-5733, or Leader Durkin's office at (630) 325-2028.