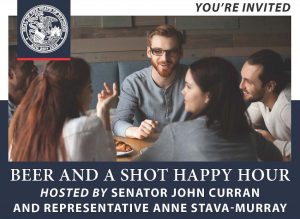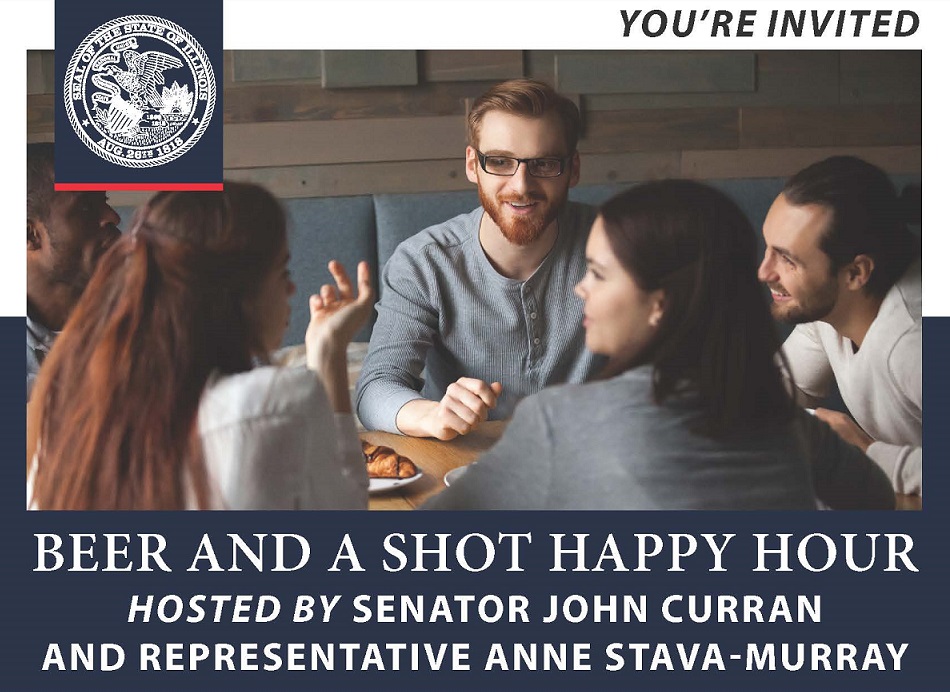 Illinois State Senator John Curran (R – Downers Grove) and Illinois Representative Anne Stava-Murray (D – Downers Grove) are joining together for a "special session" to support HB4078 with a "Beer and a Shot" happy hour at Orange & Brew Bottle Shop and Tap Room in Downers Grove. This joint session will take place on Tuesday, June 22nd from 6 – 8 p.m., where the craft beer caucus can enjoy a draft beer courtesy of this bipartisan resolution as long as they show proof of COVID vaccination (and of course, a valid ID).
"We want to encourage more people to get the vaccine," said Senator Curran. "Hopefully by passing this legislation, it allows more Illinois bars and restaurants to be creative with incentives to help us tackle this goal. We're glad to play a role in fighting the pandemic by paying for some of these drinks ourselves."
Among other provisions, HB4078 allows retail establishments to provide one free alcoholic drink per customer who shows they've received the COVID-19 vaccination.
"While we hope to achieve our goal of 70% of eligible Illinoisans vaccinated by the July 4th holiday, we also want to help support some of the businesses hit hardest during this pandemic," said Representative Stava-Murray. "Hopefully this encourages more vaccinations as well as more visits to support our local restaurants and bars to not only get a free drink, but to enjoy a meal or bring food or beverages home to enjoy."
Orange & Brew's event takes place on the heels of Illinois entering Phase 5 of its COVID-19 reopening plan, and will allow for attendees to sit either indoors or outside to enjoy their craft beer of choice.
"Senator Curran and Representative Stava-Murray are both active supporters of local small businesses in their districts, and of our shop," said Eric Schmidt, Co-Owner of Orange & Brew. "As a small shop without a kitchen, as much as we encourage everyone to get vaccinated, we couldn't take part in a program like this without some financial help. We're honored they chose us for this event."
All craft beer will be served in 12-oz pours, and the promotion will also include glasses of wine and yes, even frozen slushees.