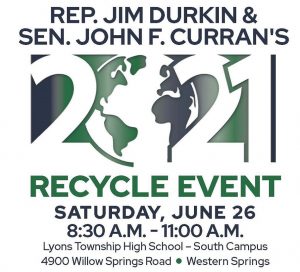 Illinois House Republican Leader Jim Durkin (R-Western Springs) and Senator John Curran (R-Downers Grove) will be hosting their annual Recycle Event on Saturday, June 26, 2021 from 8:30 am to 11:00 am at:
Lyons Township High School – South Campus
4900 Willow Springs Road
Western Springs, Illinois
"Now that Illinois has fully reopened after the Covid-19 pandemic, this free event will give everyone an opportunity to purge any reusable household items for the purpose of recycling," said Rep. Durkin.
This free event allows residents to get rid of household items that have been taking up space but can also be repurposed for others to use. Items that can be recycled include: electronics (no TV's or CRT monitors), prescription drugs (no needles or liquids), keys, hearing aids, musical instruments, eye glasses, bicycles and much more. Residential paper shredding will also be available on site. A full list of acceptable items can be found at repdurkin.com and senatorcurran.com.
"With the help of our assisting participants, we are offering residents an opportunity to safely and efficiently dispose of all kinds of items," said Sen. Curran." "Residents can also take advantage of the shredding service we're offering. It's an easy and free way for people to properly destroy their sensitive documents and better protect themselves and their families from fraud or identity theft."
Please stay in your car upon arrival and staff will take the items from your vehicle. Do not exit your vehicle at any time. Participants include American Legion post 1941, Cook County Sheriff's Office, Constance Morris House/Pillars Community Health, Paper Tiger, S.C.A.R.C.E., Western Springs Police Department and Working Bikes.
Click here to view a full list of what will be and will not be accepted for recycling at this event. For more information, contact Leader Durkin's office at (630) 325-2028 or Senator Curran's office at (630) 914-5733.