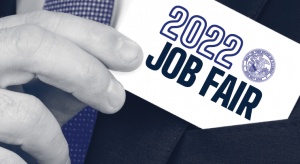 Are you looking for a job or a new career?  House Republican Leader Jim Durkin (R-Western Springs) and State Senator John Curran (R-Downers Grove) invite you to participate in their FREE Jobs Fair on Thursday, April 14 in Lemont.
The Jobs Fair will be held from 9:00 a.m. until noon at CORE Fitness Center, 16050 W 127th St, Lemont. In addition to more than 100 employers, the fair will feature the following workshops:
9:00: Inside Track to Interviewing with Confidence
10:00: Selling Your Strengths & Enhancing Your Brand (presented by the Southwest American Job Center)
11:00: Social Media that will Enhance Your Job Search (presented by Moraine Valley Community College)
"Our Jobs Fair provides an excellent opportunity for people to be paired with employers for jobs that suit their skillsets," said Durkin. "I would encourage all people who are in search of sustainable employment to update their resumes and to come dressed to interview at this jobs fair."
The jobs fair was put on hold in 2020 and 2021 due to the COVID-19 pandemic, but returns on April 14 with a record high number of employers. Admission is free.
"The employers at this event are actively recruiting new hires," said Curran. "By bringing more than 100 employers together under one roof, those seeking jobs can maximize the efficiency of their job search."
Participating employers include: 1-800-Got-Junk, Aflac, Allegiance Staffing, Alphabroder, Alpine Amusement Co., Amazon, American Bus Co., Ametek, ASG Staffing, Atlas Lift, Big Bolt, Bridgestone Tire Operations, Burke Beverage, Carlisle Construction Materials, CFS Brands, Certified Group, Chicago Commons, Chicago Tube, Chicago Zoological Society, Child Care Careers, Cintas, CityGate Hospitality, Clearbrook, Colors for Plastics, Construction Industry Service Corp., Cornerstone Restaurant Group, Dealer eProcess, Delta Sonic, DuPage County Workforce Development Division, Express Employment, FedEx Ground, First American Bank, First Student, Fisher Printing, Grainger, Harrah's Joliet Casino & Hotel, Help at Home, Home & Hearth Caregivers, Home Helpers, IBEW Local 134, IKEA, IL Conservation Police, IL Dept. of Central Management Services, IL Dept. of Children & Family Services, IL Dept. of Corrections, IL Department of Employment Security, IL Dept. of Human Services, IL Dept. of Natural Resources, IL Dept. of Transportation, IL State Board of Education, IL State Police, IL Tollway Authority, In the Swim/Leslie's Pools, Integrity Trade Services, International Paper, IT Expert Systems, Jewel/Osco, JoJo's Shake Bar, Kelly Services, LaGrange Area Dept. of Special Education, LumiSource, Malone Workforce Solutions, Matson Logistics, Metronet Fiber, Micro Train Technologies, Moraine Valley Community College, My Giant Steps, NTA Precision Axle Corp., Neovia Logistics, Nicor Gas, Numark Credit Union, Office Depot, Oxford Auto Insurance, PACE, Paramount Staffing, Philip J Rock Center, Ray Graham Association, ReaderLink Distribution Services, LLC, Rehab Without Walls, RHM Staffing, Ron's Staffing, SAS Retail Services, Scientel Solutions, Silva International, Southwest American Job Center at Daley College, Specialized Staffing Solutions, Sunnyhill Nursing Home of Will County, Surestaff, Symbol Training Institute, Teledyne, The Hill Group, The Hire Solution, The M & R Company, Timberline Knolls, Trans Chicago, Tru Green, Tucker Abin & Associates, Universal Metro Asian Services, UPS, US Foods, Woodridge Park District, Work Now Staffing, YMCA Safe N Sound, and Western & Southern.
For more information, please call Durkin's legislative office at 630-325-2028, or Curran's legislative office at 630-914-5733.