Curran to host Coffee & Conversation in Lemont on Aug. 19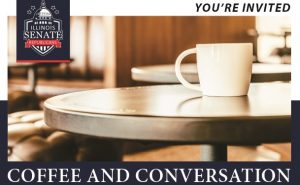 This week on Thursday, Aug. 19, I will be hosting a Coffee & Conversation event in Lemont. Mayor John Egofske will join me at 8:00 AM at Rustic Knead, 1130 State Street for this outreach activity. As we enjoy coffee and breakfast pastries, the Mayor and I will have casual conversations with constituents about issues that are important to them.
These casual events provide a perfect opportunity for elected officials to engage in one-on-one conversations with the people we serve. If you're in the area on Thursday morning or are on your way to work, please stop in and say hello. And if you have an issue or opinion you would like to share, Mayor Egofske and I would love to talk with you.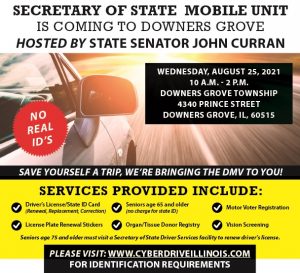 Other upcoming outreach events include:
Wednesday, Aug. 25: Mobile DMV event with Secretary of State's mobile team, 10:00 AM – 2:00 PM, Downers Grove Township Building, 4340 Prince Street, Downers Grove
Friday, Aug. 27: Blood Drive with Versity Blood Center, 11:00 AM – 5:00 PM, Downers Grove YMCA, 711 59th St, Downers Grove
Saturday, Sept. 18: Recycling Event with House GOP Leader Jim Durkin, 8:30 AM – 11:30 AM, Bambrick Park, 1330 Smith Road, Lemont
Additional community events will be scheduled in the coming weeks, and when those plans come together, I will promote those events in future newsletters and on my website SenatorCurran.com.
Illinois public schools to start reporting school violence data
This year I was proud to support legislation that requires the Illinois State Board of Education (ISBE) to begin collecting and reporting data on incidents of violence in school settings or during school-sanctioned activities. That legislation has now been signed into law.
Under Senate Bill 633, beginning with the 2022-2023 school year, all incidents at public schools that result in a student or students receiving an out-of-school suspension, expulsion, or transfer to an alternative school setting must be reported annually on each school district's official school report card.
According to a recent School Survey on Crime and Safety administered by the U.S. Department of Education, an estimated 962,300 incidents of violence occurred in U.S. public schools across the country in 2017-2018. Seventy-one percent of schools reported having at least one violent incident during the 2017-2018 school year.
Legislation enhancing penalties for Scott's Law signed
Through bipartisan legislation signed on Thursday, those who fail to change lanes and slow down when approaching an emergency response vehicle on the road will face steeper penalties through an enhancement of Scott's Law. I was an enthusiastic "yes" on Senate Bill 1913.
At the discretion of a presiding judge, violators of Scott's Law currently face a fine of between $250 and $10,000 for a first offense, and a fine of between $750 and $10,000 for a second office. Now, in addition to paying a fine, violators may also have a community service requirement added to their ruling. The bill received unanimous support in the Senate and House and was also supported by several other individuals and groups, including the Secretary of State, the Fraternal Order of Police, the Illinois Sheriffs' Association, the Illinois Municipal League, and the Illinois Fire Chiefs Association.​
Application window opens Aug. 18 for new small business grant program
Beginning Wednesday, Aug. 18, Illinois small business owners can apply for COVID-19 recovery assistance through the new Back to Business (B2B) grant program. The grants are funded by the federal American Rescue Plan Act (ARPA).
The new $250 million rolling grant program builds on last year's Business Interruption Grant (BIG) program. Within the new program, $100 million is earmarked for businesses in areas disproportionately affected by the pandemic, $30 million for entertainment and art businesses, $25 million for restaurants and taverns that did not receive grants through the Restaurant Revitalization Fund, $25 million for hotels, and $25 million for small businesses that did not receive funds through the BIG program.
To be considered for a grant between $5,000 and $150,000, applicants must demonstrate they had a reduction in revenue in 2020 when compared with 2019, and annual revenues of no more than $20 million in 2019. Hotels with $35 million or less in 2019 revenues are also eligible.  As part of the application, businesses must also provide two bank statements, a business owner ID, and federal tax returns for 2019 and 2020.
For more information on how to apply and where to access small business assistance, please visit https://www2.illinois.gov/dceo/Pages/default.aspx.
2021 State Fair kicks off in Springfield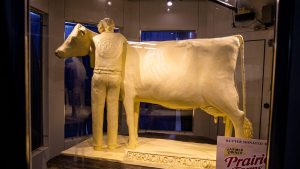 After being canceled last year due to COVID-19, this year's State Fair in Springfield kicked off mid-week at the Illinois State Fairgrounds. After the unveiling of this year's butter cow on Wednesday afternoon, gates opened on Thursday. The first official day of the fair was supposed to include the official ribbon cutting and the popular Twilight Parade, but both were canceled due to bad weather.
In the days leading up to the start of the State Fair, new mask mandates and other pandemic mitigations were announced by Gov. Pritzker. On Aug. 6, the Governor announced that masks will be required at all indoor areas at the fair regardless of vaccination status, and that all concertgoers will also be required to wear masks. Additionally, those watching concerts from the "standing room only" areas on the track in front of the grandstands will be required to show paper or digital proof they are fully vaccinated or show a negative COVID-19 test that is less than 72 hours old.
Special featured days this year include Kids Day on Aug. 14, Veterans & Gold Star Families Day on Aug. 15, Senior and Scout Day on Aug. 16, Agriculture Day on Aug. 17, First Responder Day on Aug. 20, Park District Conservation Day on Aug. 21, and Family Day on Aug. 22.
New attractions at the fair this year include a "Route 66 Experience," a flying water circus featuring acrobats performing 40 feet above a swimming pool, and a "Dino-ROAR" exhibit featuring live-action dinosaurs. The fair in Springfield will run from Aug. 12-22. For information regarding vendors, parking, entertainment, etc., please visit https://www2.illinois.gov/statefair/Pages/default.aspx.
"Vax Verify" system launched for digital vaccine proof
The Illinois Department of Public Health (IDPH) has launched a new database that allows Illinoisans ages 18 and older to store digital confirmation of their vaccination status online. Proponents of the database claim that having a digital version of one's completed vaccination card provides for easy access when proof of vaccination is required at work, international travel, at an event, or any other time proof of vaccination is requested or required. Because users would have to enter personal information to be cross referenced and verified, opponents believe the database would expose private personal and health information to hackers. To read the IDPH announcement about the new portal, visit https://www.dph.illinois.gov/news/idph-launches-online-vax-verify-system.