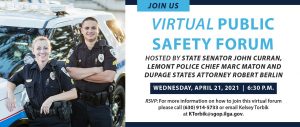 Senator John Curran (R-Downers Grove) is hosting a virtual Public Safety Forum at 6:30 PM on Wednesday, April 21. DuPage County State's Attorney Robert Berlin and Lemont Police Chief Marc Maton are joining the Senator for the informational event.
"Public safety concerns have been at the forefront of a lot of discussions lately, and I'm pleased to bring two respected community leaders together for this online informational event," said Sen. Curran. "Together, we will provide tips on how residents can maximize their safety against some of this area's most prevalent crimes, like carjackings, home invasions, and residential burglaries. We will also talk briefly about the next steps for the recently-enacted criminal justice reform law (P.A. 101-652)."
The virtual event will take place on Zoom. Those who wish to participate can RSVP by calling (630) 914-5733 or by emailing Kelsey at KTorbik@sgop.ilga.gov. When RSVPs are received, Zoom access information will be sent.
"We have a lot of good information to share, so I hope we have a large turnout for this online forum," added Sen. Curran. "After the presentation, there will be a question and answer period."
For more information, visit senatorcurran.com.