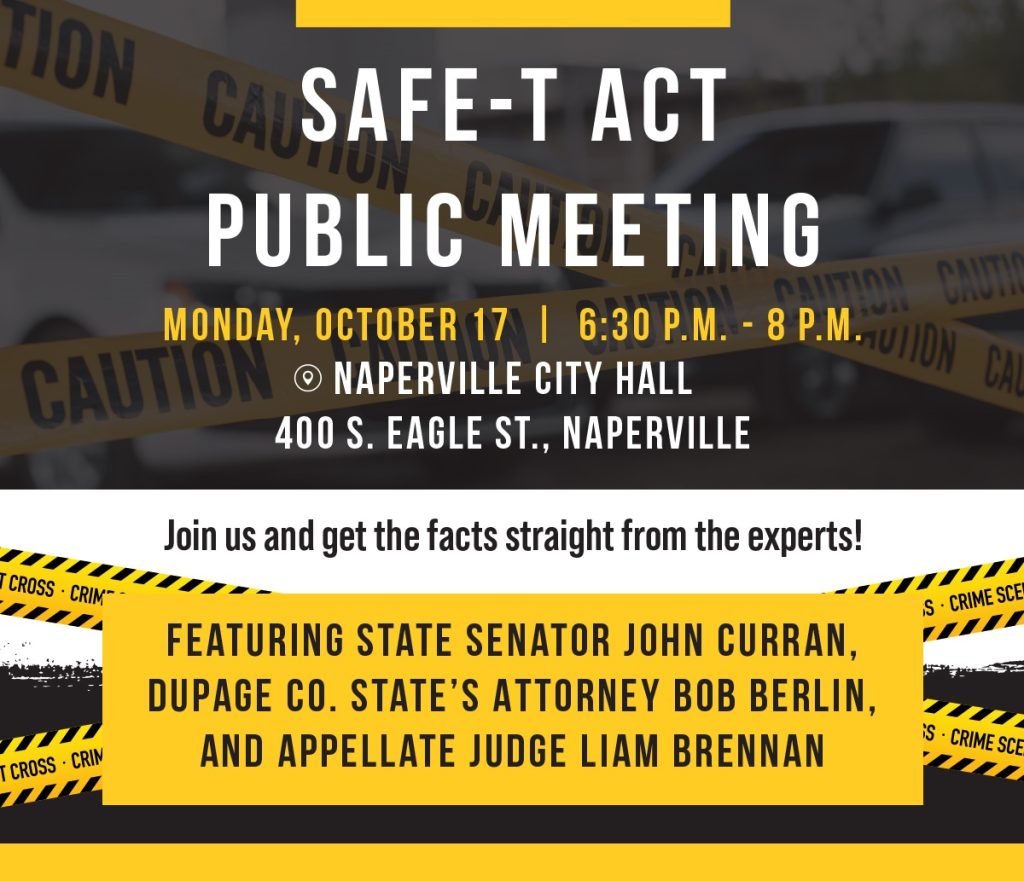 Criminal justice system changes that affect every Illinois family are coming on January 1, 2023, and to help separate fact from fiction, State Senator John Curran, DuPage County State's Attorney Bob Berlin, and Appellate Judge Liam Brennan will share facts about the SAFE-T Act at an informational meeting on Monday, October 17 in Naperville.
SAFE-T Act Information Meeting
Monday, October 17, 6:30-8:00 p.m.
Naperville City Council Chambers
400 S. Eagle Street, Naperville
"Significant changes to the state's pre-trial detention system and rules for how police can pursue and apprehend offenders are coming in just two months, and without substantive changes to the SAFE-T Act our communities will be less safe and taxpayers could be on the hook for substantial tax increases," said Sen. Curran. "The changes in this flawed law affect every Illinoisan, so I would invite people to attend this public meeting to learn more about how the SAFE-T Act affects them."
The meeting will be hosted and moderated by Naperville City Council members Patty Gustin and Paul Leong. The panelists will discuss the SAFE-T Act's effect on communities, schools, residents, and businesses. Time will be reserved for questions from the audience.
"The SAFE-T Act includes contradictory language and provisions that tie the hands of judges when determining whether a defendant should be detained while awaiting trial or released back into the community," added Sen. Curran. "Time is running out to fix the many shortcomings in this law, and I look forward to joining these respected community leaders so that together we can separate facts from fiction and provide residents with real, non-politicized information."
For more information about this event, please contact Patty Gustin at pattygustin@gmail.com.