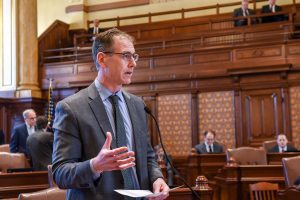 Legislation championed by State Senator John Curran (R-Downers Grove) that allows law enforcement to pinpoint cell phone location in cases of kidnapping and other emergencies was approved unanimously in the Illinois Senate on Friday. Senate Bill 2530, known as "Kelsey's Law," has been enacted in 27 other states, and responds to the kidnapping and murder of Kelsey Smith in 2007.
"The family of Kelsey Smith asked me to carry this bill in the State of Illinois so our state can join other states in recognizing that pinpointing the location of a victim's cell phone can save a life in an emergency," said Sen. Curran. "On the day of her kidnapping, Kelsey had a cell phone on her, but law enforcement could not access the cell phone location from the telecommunications service provider until more than three days had passed. This bill allows law enforcement to access that information much sooner."
Specifically, through SB 2530, in cases when a person has been determined by law enforcement to be at risk of death or serious physical harm, upon request by a law enforcement agency, a wireless service provider must provide call location information concerning the telecommunications device of a user to the requesting agency.
"This legislation will save lives," added Sen. Curran. "I appreciate the full support it received in the Senate, and I look forward to its passage in the Illinois House in the coming weeks."
States that have adopted Kelsey's Law: Kansas, new Jersey, Nebraska, Minnesota, New Hampshire, North Dakota, Tennessee, Hawaii, Missouri, Utah, West Virginia, Colorado, Nevada, Rhode Island, Oregon, Pennsylvania, Arkansas, Iowa, Washington, Louisiana, Delaware, Indiana, Virginia, Alabama, Kentucky, South Dakota, and Wyoming.